1.    What's the difference between a planned trip and a custom tour in Morocco?
Our planned Morocco tours give you an idea of what's possible in a given number of days. Distances can be deceiving in Morocco: we prefer to travel the more scenic but slower secondary highways –sometimes they're the only roads available. Routes through the mountains are even slower because of the terrain. It takes longer than you might expect to reach your destination.  Our planned Morocco tours also find a balance between showing you as many highlights as possible and ensuring you have time to properly experience and enjoy those sights. Custom tours in Morocco allow you to travel your way! You can make the program fit your schedule by adding or reducing days. You can spend more or less time in any of the places along the program, or add destinations not on the program. Just ask us – we'll help you work them into the plan. Do you have special interests? Want to attend a cooking class? Visit a saffron farm? Make yours a photography trip, a cycling adventure, or an unforgettable honeymoon? Just ask – we can help you plan a perfect trip! There's no extra cost to plan a custom tour.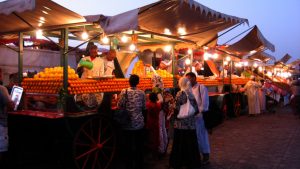 2.     What will I see and do on a tour of Morocco?
Morocco is an incredibly rich and diverse country – our trips are designed to show you the very best of what the country has to offer. We recommend that you read some of the travel guides to get an overview of the cultural, historical, and geographical highlights. What do you feel yourself drawn to? What sparks your curiosity? Our planned tours of Morocco help you experience the essential highlights of the country, but our small groups or custom tours of Morocco allow you to spend more or less time as you like, at any of the stops along the way. We'll also work with you to strike a balance between time on the road, and time visiting the key destinations along your route.  Even on longer driving routes, we ensure there are plenty of opportunities for you to stop for pictures, to see highlights that are "off the beaten path", and by the end, feel you've had a rewarding day. It's your trip – we'll help you travel your way!
3.    What's the benefit of a private tourist transportation service?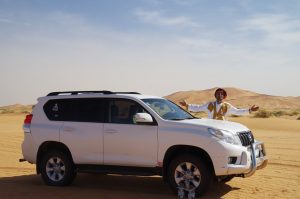 It's simply this: you can go where you want to go, and when you want to go! It doesn't matter whether you're taking a planned or custom tour of Morocco. Your driver is a local Moroccan who knows the country and speaks your language. He's at your service, all day, every day, for the duration of your trip. You can start and end your day as you like, and you can stop along the way as you like – just by arranging it with your driver.  It's the safest way to travel Morocco because you are in a private unmarked vehicle, and your driver is always with you unless you choose to explore on your own – and you are welcome to do so if you like. It's also the best way to include a camel ride or a desert tour in Morocco. There is no rail service east of the Atlas Mountains, so your only other options are to take public transportation such as a bus or grand taxi. Neither of these options are comfortable, and it's a long trip into the desert from either Fes or Marrakech. And once you arrive in one of the desert towns, you must still find private transportation to the desert camps. Our recommendation: take private transportation from Fes or Marrakech, knowing you will be safe, well cared for, and comfortable all the way there and back!
4.    When is the best time to visit Morocco?
The biggest question is, how much do you like heat?
Morocco is north of the equator, and so the months of March to May and September to November are particularly good if you prefer temperatures between 20C and 35C. Almost all regions of the country will be comfortably warm during those months. Walking, hiking, cycling, are comfortable ways to tour, and you'll also appreciate hotel pools and outdoor terraces during these months. These are also the months when you are least likely to experience rain. However, you can expect the desert regions east of the Atlas Mountains or south of Ouarzazate to be much warmer. If your only travel opportunities are in the months of June to August, avoid the desert if you don't tolerate heat well, as the temperatures can go into the high 40C's or low 50C's. You can still enjoy Morocco's beautiful Atlantic and Mediterranean coastal regions. The winter months from December to late February can be very cold.  Even though you will be able to dress warmly for comfortable day-time walking and touring, these can be rainy months, and high mountain passes experience deep snow and road closures which can be disruptive to travel plans. The desert regions are not necessarily warmer during the winter months, and we discourage overnight stays in the nomad camps in winter as the tents are not heated, and temperatures often go down to 0C, or even a few degrees below zero. As well, many traditional Moroccan buildings are not heated, so it is still necessary to dress warmly when you are inside. Let us know when you would like to go – we'll help you organize your program to make the most of the country – and the best of the season!
5.    Is it safe to travel to Morocco?
Yes. Regardless of where you are in the world, if you would feel safe travelling to any other continent beyond your own – in other words, you are not afraid of travelling in general – there is no reason for you to fear travelling to Morocco, or travelling in Morocco.  If your country has no explicit prohibitions against travelling to Morocco, there is no reason for you to fear travelling to Morocco, or travelling in Morocco. When you are in Morocco, you will see evidence of the country's concern for safety and security, particularly at airports, where police and army personnel are visibly present. This is not so much because Morocco is "dangerous", but because Morocco is vigilant, and wants you to know that. Morocco is explicitly co-operating with other countries in Europe and elsewhere to share information about terrorist threats in particular. When you are travelling with us, you are travelling in a private unmarked car, and you are with a local Moroccan driver who speaks your language fluently, as well as the languages of Morocco. He is with you at all times, unless you wish to explore on your own. We encourage you to do so: it is no more dangerous for you to walk the streets or explore the medinas in Morocco than other places in the world. On the other hand, it is no safer, either. In this regard, the usual precautions prevail: don't walk in unfamiliar places at night. Don't wear expensive jewellery that would attract the attention of thieves, and don't carry large amounts of cash. Be aware of your surroundings, including the people nearby. Take appropriate precautions for your personal well-being: purchase travel medical insurance before you leave home, and bring enough of your prescription medications with you to last the duration of your trip, and a few days more, just in case your return home is delayed for unforeseeable reasons. Also bring any preferred over-the-counter medications, as you may not find the same brands available in Morocco. Read more details on the blog-
Is it safe to travel to Morocco
now STILL HAVE QUESTIONS? Don't hesitate to contact us. Come to the Sahara Tours offers :
We've been there – we can answer any question and offer advice about any aspect of planning of
escorted tours in Morocco
.