Is it Safe to Travel to Morocco?
We love Morocco, and want you to love it, too. If you think you'd like to
travel to Morocco
, but aren't quite sure if it is safe to travel to Morocco, then this is the right article for you to read right now! Even though it's our business to encourage people to travel to Morocco, we would never do so if we thought there was a reason to be concerned about your safety. Aside from risking your wellbeing, we would also be risking our reputation, and we are not prepared to do either of those things. It's in our interests, then, to help you assess and manage risk for yourselves by providing you with our best information and recommendations. And that would include recommending that you postpone your trip if we thought it prudent.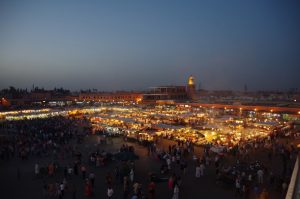 Are you concerned about terrorist activity?
We can't be foolish enough to think there are no terrorist cells in Morocco: recent events (and others like them in recent years) are a testament to that fact. However, the general view is that there are cells in (probably) all of the western European countries as well. So far, most actual attacks have taken place in European countries or in the "primary combatant" countries in the Middle East. So there are potential risks of being caught up in a terrorist incident almost anywhere — including here in North America, from where we are writing. The real question is whether you are likely to find yourself in danger in Morocco itself. We can't know for sure, of course: that's the nature of terrorism — its essential qualities are surprise and shock. But here is our assessment of the situation there.
Is it Safe to travel in Morocco The Country:
Unlike many of the other countries in North Africa and the Middle East, Morocco has a stable long-standing democracy with a popular, highly visible and engaged king and government. The country is explicitly and publicly co-operating with France, Spain, and other countries in Europe and the world on security matters, and the media coverage of recent events attests to that. You will have read about the government's involvement with Spain and "unnamed countries" in making recent arrests. When you are in Morocco itself, you will certainly see small cross-service teams of local police, national gendarmerie, and armed soldiers in the major airports, and around government buildings and the royal palaces. If you travel in a private car such as ours, you will experience frequent police/gendarme checks along your travel route, and while it is unlikely that you as travellers will be checked, from time to time, your driver will be.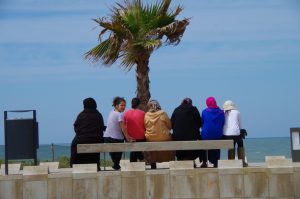 Morocco is physically distant from the intense unrest in the Middle East, and daily life is heavily influenced by both their long history of stability, and European colonization. For better or worse, there is a European quality that overlays the traditional Berber/Arabic life and lifestyle there, promoted by the strong presence of European ex-pats who run many tourism and other business operations, and perhaps perpetuated by the very high levels of European tourism. People work hard and live simple lives, but are generally happy: confident and optimistic about life. Still, it's a Second World country with lots of problems, particularly high unemployment among young people, poverty, illiteracy which runs very high in the population over 40, and the virtual absence of social safety nets. You will see a great deal of poverty, but you won't see public drunkenness or overt homelessness. If you are obviously in the company of a Moroccan person (such as a guide on a walking tour, or your driver at other times) you are unlikely to be bothered by people begging — or at least, not seriously or aggressively pestered. Again, Moroccans value tourism too much to allow that to get out of hand.
How safe is Morocco on the road: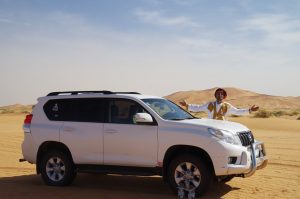 When you tour Morocco with us, you are travelling in a private vehicle, unmarked except for the discrete tourist transportation license stickers on the windshield. (It's a very nice vehicle, but hardly the only one.) You will never be alone unless it is by choice: you will either be in the company of a guide whom we know and have hired for you, or in your driver's company. If there is anything you need, he will get it for you — or be in your company while you get it, unless you wish otherwise. You stay at intimate riads owned and operated by Moroccan people (who will instantly become protective of you), not large western hotels. One of the reasons we avoid the chains is because we want you to experience the authentic Morocco, and want that to extend into your evenings after a day of touring. But it's also out of concern for your safety: in our opinion, they are far more likely target for terrorism than small locally-owned riads. (Plus, the western chains are all in the modern parts of the cities, not in the medinas, and so aren't within walking distance of the sites you're there to see.) In our view, terrorists want large-scale destruction and death in public places, and it's hard to get that when there are four to six people in a 4X4 on a secondary highway, or tucked away in a riad in a labyrinth of little streets. While it's true that much of your touring time in the cities is spent in the medinas, these are the shops and neighborhoods of Moroccan people: tourists are a tiny minority intermingled with throngs of locals. Although markets have been attacked in other countries, an attack on a medina would hurt many more Moroccan people than tourists, so it's hard to imagine that those areas would be attractive targets, as these attacks anger and alienate the very people the terrorists need on their side.
Ordinary Moroccan people – and true Muslims everywhere – are dismayed by what is happening in the name of their religion. They are also acutely aware of the importance of tourism to the country, and don't want anything to disrupt it. (Morocco has already felt considerable blow-back from the events in Egypt, Tunisia, and the Middle East.) If you ever have the feeling that people are watching you, it's more likely that they are watching out for you! Just as a little side note, when I was there back in October of 2015, I took the train from Marrakech to Fes, and sat in First Class where it's more likely that I'd find someone who either spoke English, or would put up with my terrible French! I had probably half a dozen different compartment companions for the duration, and when the conversation inevitably turned to my work with
Sahara Adventures
, without skipping a beat, each and every one of them thanked me profusely, not only for travelling there myself, but for helping to facilitate others' travel to Morocco as well. It was very gratifying and it was reassuring to realise how sensitised Moroccans have become to the importance of tourism to the country, and its direct impact on their own lives.
Are you concerned about your personal safety?
I'm a mature woman and I have made eight trips to Morocco since 2013. I have never had a moment's concern. Not even on my very first trip, when I travelled for three weeks on my own, taking local buses, trains, and taxis (grand and petit), and walking everywhere (sometimes, but usually not with a guide), staying in riads, and eating in local cafes and restaurants I found in the streets. You should take no more – but no fewer – precautions that you would take travelling anywhere. Thieves are thieves, so wear only modest jewellery. ATMs are absolutely everywhere, so there's no need to carry a lot of cash, either. When you travel with Sahara Adventures, your local
Marrakesh guided tours with Imad,
will help you if you have concerns about the security of your belongings. If you feel intimidated about finding your way in unfamiliar streets, then don't go out in the evenings when there are fewer people to ask for help, or when darkness is likely to bring out undesirables – just as is true at home. Don't take chances with your health. Bring sufficient prescription medications with you to last at least as long as you expect to be away, and also bring your preferred brands of non-prescription medications. Some pharmaceuticals are sold under different brand names in different countries, and language barriers may add to the difficulty in finding what you want. (In Morocco, you don't walk into a drugstore and pick up what you want. You have to ask the pharmacist, and he is unlikely to give you what you want without first asking about your symptoms.)
Are you concerned about how to dress in a Muslim country?
If you dress with the same general modesty as you would in North America, neither women nor men need to be concerned about offending anyone there. It's appreciated when you keep shoulders and knees covered, but that doesn't mean you have to be hot and uncomfortable. Ladies, you can wear a tank top (especially in the car), but when you go into the streets, or into a shop or restaurant, it's appreciated if you throw on a light top (even something sheer or float-y is fine) or shawl. Women are certainly not expected to "cover up" as the more conservative Moroccan women do. Even so, while the rural areas remain more conservative, things are changing in Morocco, too. In the cities in particular, you will notice a real mix of both traditional and modern/European dress among both men and women, and that young Moroccan people dress quite similarly to young people anywhere else, although you won't see much in the way of piercings, tattoos, or electric hair. So you will not jeopardize your safety through clothing choices. Feel free to reach out to us with a Skype conversation or through email. 
Contact Sahara Adventures
or learn more about
Morocco tours
which can include a
Morocco desert tours
to the Sahara desert. Everyone has different tolerances for risk, and we expect you to make your own decision about what seems safe for you. We continue to monitor what happens in the world and in Morocco, as anything can happen at any time, but at this time, we have no hesitation at all in encouraging you to
Come to the Sahara!
You'll have a fabulous time!