I'm sitting in the "hot" chamber of a neighborhood hammam in Marrakech, coated in silky "beldi", the natural black soap made from olive oil and infused with eucalyptus.  It's quietest in this room, the air dense with steam. The hammam is an urban oasis: it's the one place in this arid country where there is endless water.
It's restful, it's social, it's where neighbors find community. There's muffled chatter of other women coming from the "medium" room, punctuated by shrieks and giggles of their little children splashing and playing after a dousing of warm water. Everyone revels in sensory pleasure. This is true cultural immersion. I can speak to no one, nor they to me, and yet, through the intimacy of personal cleansing in a communal space, differences dissolve along with the soap: there is a bond.
Soon I will be ready for scrubbing, but for the moment, I am simply propped against the tile wall, reflecting on the subject of the traditional hammam. Yes, you can be washed, scrubbed, massaged and oiled in the sweet luxury of soft music, dim lights, exotic scents and the gentle presence of an efficient attendant at your riad.  It will be lovely. But your tour to Morocco just won't be complete without a visit to a wonderful, restorative traditional hammam.
It begins at the modest front door, often marked only by a hand-painted male or female "bathroom" icon. Men and women bathe separately: if there is only one facility, men and women will be scheduled at different times of the day. Entry is just a few dirhams, or a couple of Euros. If you didn't bring your own, you can also buy soap, shampoo, and most other bathing essentials including a "kis".
Don't miss the kis – it's the seemingly innocuous wash mit that you could probably use to strip wallpaper. Once in the change room, you hand your clothes over to the attendants, and proceed to the first bathing room, taking your towel and toiletries with you. (No, you don't wear a bathing suit. You're bathing, not swimming.) You then find a spot to sit, set out a little cloth or mat to sit on, arrange your toiletries, and get your water.
You need two buckets: fill a large one with water from one of the taps along the wall. Then return to your mat and use a small bucket to douse yourself with water.  Create your own ritual: want to start by washing your hair? Go ahead. Want to slather yourself with black soap and move to the hot room for a good sweat? By all means.  Some people bring other scrubs or body clay and create their own spa experience.
If you like, you can engage the services of an attendant to do the dousing and scrubbing for you. If you choose to do it yourself, don't be surprised if someone offers to scrub your back for you. Do offer to reciprocate, but expect also that your offer will be gently refused. Rinse to your heart's content, then when you're ready, find your towel and return to the change room where you will be reunited with your clothes.
How do I know so much about Morocco you may be wondering?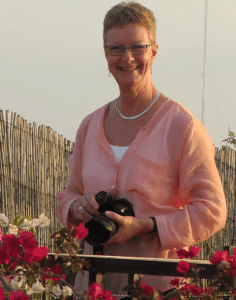 I am a business partner in Come to the Sahara tours with my business partner and Morocco tour guide, Imad.  I am a Elaine Dixson, a Canadian citizen, that adores Morocco and I travel there as many times a year as I can. I've refilled my bucket and found my kis. It's time to scrub… Ah! I fell like I have new skin!  I hope you can experience this unique part of Moroccan cultural too just like me.
Feel free to contact me at Come to the Sahara adventure tours with your questions. I would be pleased to help you enjoy Morocco as much as I have.
Learn more about: